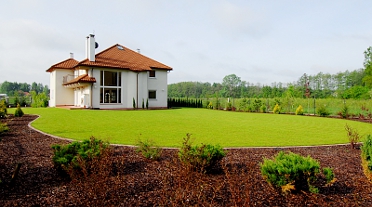 The Show House is a beautiful single-family house designed in the 'Provence-Andalusian' style by a renowned Warsaw architectural practice.
This house, quite apart fromits unique architecture, is characterized by itshigh functionality. A relatively small usable area of 238.5 m2 has been optimally employed to create a perfect home for a couple with two children.
The ground floor living room has a two story high window overlooking the forest. The kitchen is open to the living room, equipped with the most modern household appliances, and is adjacent toseparate pantry and laundry rooms.
The ground floor also has a TV lounge, which can be used as a guest room, a spacious hallway library, a bathroom with a shower and toilet, a boiler room and a garage for two cars. All the ground floor areas have under floor heating and are providedwith a large number of built-in wardrobes and storage facilities.

CLICK TO ENLARGE

The first floor has a large parents' bedroom with anen-suite bathroom equipped with a bathtub, a separate shower, two sinks, a w.c. and a bidet. There are also two extra bedrooms for children and a family bathroom plus another room for an office.
All rooms have ample built in furniture and storage facilities.


There is an elegant garden all around the house with an automatically watered central lawn and rich planting along the fence. All the paths around the house and in the garden are paved and illuminated at night. The entrance gate and garage door are opened by a remote control.